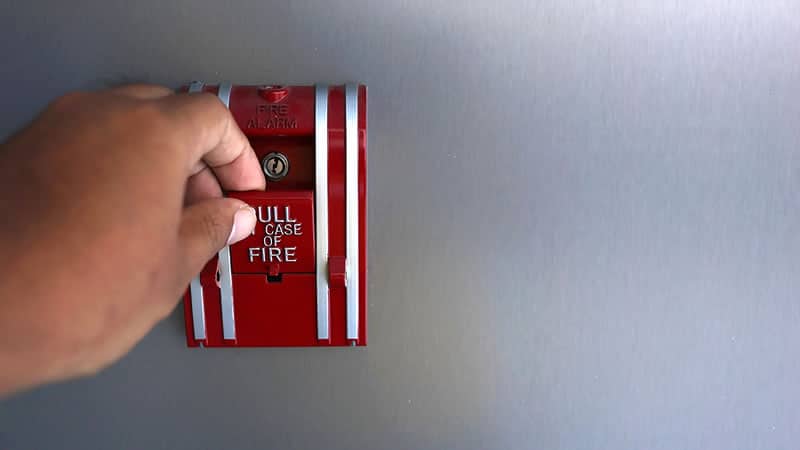 Pro Active Integrated Security offers ULC fire alarm monitoring for fire alarm systems and fire sprinkler or fire suppression systems for our customers throughout Vancouver and the lower mainland. Our fire alarm monitoring and fire sprinkler monitoring service connects your building with the local fire department.  This method of real-time alerts will notify the fire department if there's a fire in your building and the alarm system is triggered.
How Our ULC Fire Monitoring Service Works
Fire alarm systems were never really designed to notify the fire department if there were to be an actual fire in your building. The primary role of a fire alarm is to help building occupants recognize the threat so that everyone can get out safely.  Somebody must still call 911 and notify emergency services there is a fire.  Most fire sprinkler and suppression systems operate in a similar fashion.  ULC fire monitoring bridges the gap between your building and notifying the relevant authorities should your fire alarm or fire sprinkler system get triggered.
To outfit your building with real-time fire monitoring one of our CFAA-certified technicians will install a ULC fire alarm monitoring transmitter into your building.  Once the unit is installed it can be connected to your existing fire alarm or sprinkler system. When your building has been connected to a fire alarm system, Pro Active Integrated Security monitors the alarms and adheres to ULC-S561 for fire alarm monitoring:
Fire Alarm Notifications: When your fire alarm is triggered it will send a signal to our ULC monitoring station.  This can be triggered by a smoke detector, a heat detector, fire alarm pull station, or if waterflow for the sprinkler system is activated in your building.  Once we are notified of the fire alarm signal (and it's not a system test) we are required to notify the fire department of a fire alarm signal within 30 seconds.
Fire Trouble Notifications: If there are any problems with your fire alarm system or any of it's components the ULC-S561 fire monitoring standard says that we have 5 minutes to notify key persons of the fire alarm condition or malfunction.
Fire Sprinkler Notifications:  When your ULC fire monitoring is connected to a fire sprinkler system we typically monitor the following:
Sprinkler Waterflow:  This tells us that water is flowing through your sprinkler system.  When this happens the fire department needs to be dispatched immediately.  Pro Active Integrated Security is required to notify the fire department of a fire alarm signal within 30 seconds.
Low System Pressure: This warning tells us that some type of issue has reduced the pressure in the sprinkler system to the point that it may not operate properly in the event of a fire. Pro Active Integrated Security will notify key personnel within 5 minutes if this notification is received at our ULC monitoring station.
Gate Valve Status: These valves control the waterflow into your sprinkler system.  Our fire monitoring service can tell whether these valves are open or closed.  If the gate valve is closed your sprinkler system will not be pressurized with water.  Again, we'll notify key personnel within 5 minutes of receiving this signal.
How Does Pro Active Integrated Security Communicate With Your Building?
At Pro Active we use the ULC-approved methods of communication to monitor your buildings fire alarm systems.  This connection is made through the specialized equipment that we install with the fire alarm monitoring transmitter. The emergency signals from your fire monitoring system can be sent to us a variety of ways including:
Cellular Network Communication
IP (Internet)
Phone Lines
DVACS (for older legacy systems)
Pro Active Integrated Security can provide our clients with communication in both active and passive methods.  This means that the communication system can be a standalone system or it can require a back-up for redundancy.  Active systems are monitored every 180 seconds and do not require a second form of communication.  A passive system is tested daily and some combination of phone line/cellular/IP is required. One of our qualified technicians can help you determine what type of communication method is the best fit for your building.
What Is ULC-S561?
ULC-S561 is the standard for fire alarm monitoring in Canada. This standard is referenced in building codes and fire codes.  The ULC-S561 standard determines how equipment will be installed, how the equipment communicates with monitoring systems, how our monitoring facilities are built, how the equipment is maintained, and also how we handle the emergency signals and notifications our monitoring station receives from your building. Pro Active Integrated Security meets all of ULC-S561 standard requirements and we can issue ULC certificates to your building for insurance or other purposes. In order to meet the ULC-S561 standard for fire alarm monitoring, all of these requirements must be met.  If you are dealing with an alarm monitoring company that cannot issue you a ULC certificate then they are not providing true ULC-level fire system monitoring.
Why Choose ProActive Integrated Security Ltd.?

When you choose to place the monitoring of your fire alarm system into the hands of ProActive Integrated Security Ltd. you're partnering with a local team of dedicated and knowledgeable technicians who take the safety and security of your home or business very seriously.
You can count on your fire alarm system to be there 24 hours a day, 7 days a week, 365 days a year and if you have a problem or concern about your system we offer 24/hour emergency services.  We might not be the biggest security company around, but we are certainly one of the best!
If you'd like to request an estimate for our ULC fire alarm monitoring services please give us a call (604) 522-2121 or fill out our contact form and someone will get right back to you.